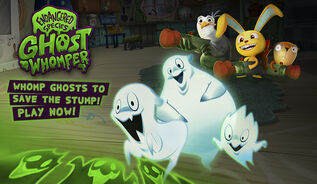 The stump is overrun with ghosts! Play as Pickle, Merl or Gull, and grab your ghost whomper to rid the stump of its spooky guests. Use the mouse to shine your flashlight, and whomp the items in each room to shake any ghosts out of hiding. When a ghost appears, click rapidly to whomp, whomp, whomp until it's dazed! Then, capture it for good in a photo. Collect AA batteries to keep your ghost catching gadgets juiced. If your flashlight runs out of power, it's game over, because it's way too scary to chase ghosts in the dark! Play now at https://www.endangeredspeciestv.com/games/ghost_whomper/
Ad blocker interference detected!
Wikia is a free-to-use site that makes money from advertising. We have a modified experience for viewers using ad blockers

Wikia is not accessible if you've made further modifications. Remove the custom ad blocker rule(s) and the page will load as expected.